Thank you everyone for playing along with us on our bi-weekly challenges. Now that our 5 new Design Team Members have been announced, remeber to be on the lookout for their amazing work starting with Challenge #70. It's going to be a really exciting time because that challenge will also be accompanied our very first ever BLOG-HOP!!!! Woohoo!!! :) We will be offering a HUGE HOUSE-MOUSE prize package for one lucky winner who plays, comments & follows us. So mark your calendars and visit us again on the 24th to join us on this First BLOG-HOP that promises to be tons of FUN!! :)
Now for today's challenge. Our very own mega-talented MARY has chosen *Distressing*. So we are Distressing anything on our projects as long as we use a House Mouse, Gruffies or Happy Hoppers image!! Come play along with us because we have a FUN prize (ONE HM/HAPPY HOPPER stamp of choice) for one lucky winner from our GENEROUS Sponsor Simon Says Stamp!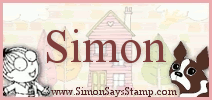 Simon Says Stamp started in 2002 and now has over 100,000 items in stock. They strive to bring you a very comprehensive range of rubber stamps, Altered Art, Scrapbooking, ATC and papercrafting supplies in the world and even offer worldwide shipping at very competative prices.
Here are the creations from our amazing TEAM....
Easy challenge right??? So then come join us & let us see your beautiful creations!! ! Please leave us a comment here with a link to your card/project. If you do not have a Blog, please feel free to link to a forum gallery or any online photo hosting site you use!
THANK YOU for Visiting us today & Happy Creating!!!!
House Mouse Challenge Team