Thank you so much to everyone who joined in last week, it was great to see so many of you play along and i'm glad you all enjoyed working with the sketch. The winner to the challenge is posted below this challenge.

Our challenge this week is Heather's idea :~
Easter
As it's Easter holidays Heather thought it would be a great idea to set Easter as the theme and i couldn't agree more.
Please find our rules of play in the righthand sidebar :-)
This week's sponsor is.....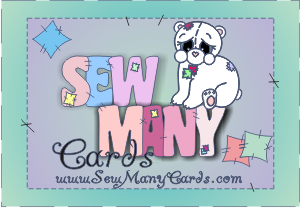 My name is Angela and I own
Sew Many Cards
. I have a husband, an almost 10year old daughter, a two year old son, and a dog/puppy: Hershey. The images of
Sew Many Cards
came from a dream that my husband had of a group of animals that were "SEWN Together" with patches and stitching, hence the name, which he also came up with. You will find that every image in the
Sew Many Cards
collection has patches and stitching, even the ones that are not animals. I love to draw and almost every image is either an inspiration from my family or a request from my great customers and design team, so please ask if you need something specific or would like to request something be made. You can contact me at
angela@sewmanycards.com
THE PRIZE IS 5 FREE DIGITAL STAMPS OF THE WINNERS CHOICE
Check out what our lovely DT have come up with to help inspire you. Don't forget to check out their blogs for more details!!

Please leave us a comment with a link to your card. If you do not have a blog please feel free to link to a forum gallery or an online photo hosting site such as flikr/photobucket etc.
House Mouse Challenge Team. x